Interview with Mark Butler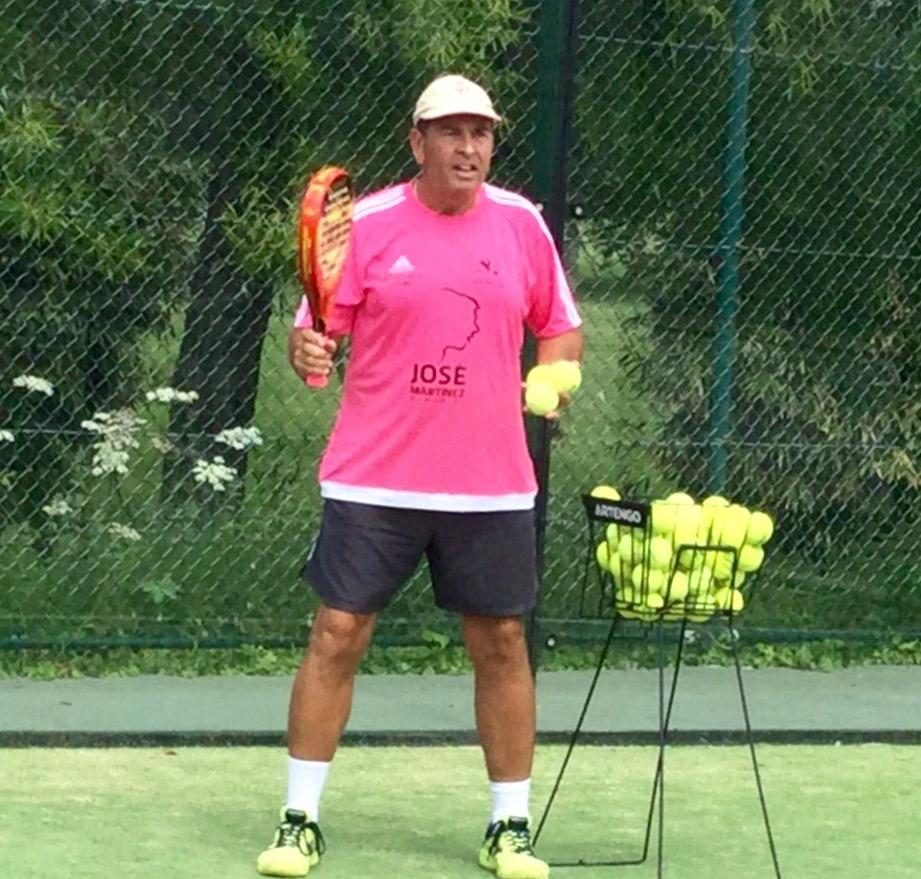 On Padelist.net, we want to share our padel passion with those who have a business in the padel industry.
Let's talk today with Mark Butler (check also his padel coach profile with reviews from his students), a padel coach based near Alicante in Spain.
Hi Mark, could you please introduce yourself to the community and tell us how you became a padel coach ?
Prior to retiring to Spain I was an avid tennis player and did a little tennis coaching in Essex, England at my local Tennis club.  In Spain I joined a club to play and coach some tennis, however I was introduced to Padel and have never looked back. I went back to the U.K. in 2013 and took a formal course with British Padel (now LTA Padel ) and qualified in  PCQ level 1 and took PCQ 2.
You are originally from the UK. How Padel is developed in London and the UK in general ?
Since Padel started  to gain interest and momentum in the U.K. under the the flag of British Padel new courts and centres have sprung up including in Scotland, Ireland and the Channel Islands. Last year the LTA ( lawn tennis association) took over British Padel so we are hoping to see Padel being played at Wimbledon in the future at some point just like at the Madrid Tennis open.
What was your best ranking ?
As a member of British padel last year I was ranked 20 in the seniors and 30 in the mens main events, but living in Spain means I don't get to compete in many British tournaments to enable me to improve my ranking as I don't get back to the UK on a regular basis.
Are you a padel player or a padel coach?
Register here in the world padel community.
What kind of lessons do you give and what are your rates ?
I give both individual and group lessons. In addition I work at 2 padel centres running coaching sessions as part of a pay and play structure where anyone, whatever their level is welcome to attend.
The pay and play sessions involve some coaching and some arranged games during the course of the morning, all for one charge.
Private Individual and small group lessons of up to 4 people are priced according to the length of the lesson and number of participants.
If anyone is interested it is best to email me and I can structure the lesson or course of lessons to the individuals requirements, and price it accordingly.
I have also arranged corporate events which includes coaching and a fun tournament
Where do you give your lessons in Spain ?
I coach on a regular basis in Pilar de la Horadada, Padel Place and also Vistabella Golf Club. However I am available to coach at other centres and courts on request.
Playing Padel is different than playing tennis. People tends to forget that. Do you confirm that a good tennis player is not necessarly a good padel player ?
As a tennis player originally myself I found it difficult to make the transition initially from tennis to padel as unlike tennis the shots have a shorter back swing and you don't have to hit the ball so hard on ground strokes. The court is so much smaller, you cannot go for the big shots in the same way, it is more about touch and feel, placement and positioning and more importantly being patient and using the ball off all parts of the glass, back wall glass, side glass and reverse glass. Even the best tennis players need some coaching to deal with the differences in the two sports.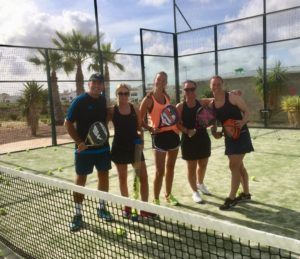 Please tell us what are the benefits of receiving a lesson by a padel coach ?
To learn any new sport it is essential not to start out with bad habits. I would always advise any players new to the game to start with a few lessons to get the basic shots, learn how to return from back glass and side glass. One of the most important aspects. Also to learn about positioning on the court, where to stand and how to play as a team. Padel is a doubles game and you and your partner must move into the net together, back together, cover the middle and be ready for the Lob, another really important shot in Padel that is used to such good effect, also learn about the different types of smashes we use and what effect they will achieve.
I had the chance to play in your coaching group, it's a great experience made of laugh, fun and improvments. How did you manage to build that community ?
Over 5 years ago my wife and I started a group on a Sunday morning for players who wanted to improve. We started as an 8, including ourselves, and now have a database of over 60 players of 6 different nationalities that play on a regular, or semi regular basis when they are in the area, like yourself. On an average Sunday we have 14 to 20 players. My wife arranges the games and I take a small group at a time to do some hands on coaching. As you found out, it is both fun and informative with some great games as well.
A last word to conclude this interview ?
Keep playing padel everyone and enjoy. it's a great sport for all ages and abilities, but remember to learn to play the game properly as that is when you really will benefit going forward.
Are you staying in the Alicante region ? Connect with Mark on his Padelist coach profile page : https://padelist.net/listing-item/marco-mark-butler/