Interview with Barry Coffey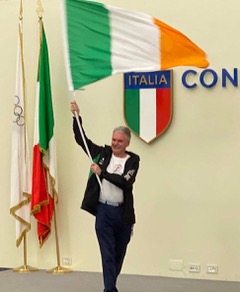 Let's talk today with Mr Barry Coffey, former ranking #1 on the LTA Padel Seniors Tour, president of the Ireland Padel Association and the Founder of the Six Nations Masters Padel Tournament. We are glad to interview today Mr Coffey as the Irish Padel Association is an official partner of Padelist.net.
Barry, how did you get into padel and when was your encounter with our magic sport ?
I have a long history with racquet sports. I started playing badminton when I was 13 years old and went on to become National Champion and play for the Irish National Team in the mid 1980s. When I retired from this sport I returned to tennis which had been my first love as a child. I remember being in the Fitzwilliam tennis club in Dublin when one of the other members who had been on holiday in Argentina was showing some photographs of this strange court and he was telling everybody about this wonderful sport called padel. This was around 1995 and the first time I had ever heard of the sport. In 2014 / 2015 I had moved to live in France and saw a photograph in the local newspaper (Nice Matin) of a padel court that had been set up in the city, but just for a few days. This time I thought "I am going to try this mysterious sport". I found a club near where I live and made an appointment to have an introductory lesson. It was November 2015. This was when I met the top French coach Kristina Clement who has been my coach ever since. I was immediately hooked on the game and booked another lesson. Kristina then introduced me to other players in the club and I started playing 2 or 3 times per week. Initially I said that I would not play tournaments, having spent so much time doing this as a badminton player, but the competitive instinct took over the moment somebody asked me to play with them in an event. I was hooked, not only on padel but on competitive padel. It was to be the start of a new chapter in my life.
You are really implicated in padel. Could you please sum up all your padel activities ?
Padel is a huge part of my life now. Prior to the COVID Pandemic I travelled regularly to Great Britain to play on the British Padel Tour. The age level was +45yrs and I was already 57. At the end of the 2017 season I was ranked 2nd and in March 2018 took over the number one ranking which I held for around 16 months. I also played some seniors events on the Swiss Padel Tour and represented Ireland at the 2019 FIP European Championships in Rome. Carrying the Irish flag at the opening ceremony was certainly one of the most memorable moments of my sporting career. During this period I became president of Irish Padel Association which represents padel players in Ireland. This takes up a lot of time but I am very happy to do it. In 2018 I signed a contract, as a player, to use and promote Adidas Padel. I play with their racquets (AdiPower CTRL 3.0) and wear Adidas clothing. I am also lucky to be an ambassador for Scottish based company Padel Tech Ltd who are the major supplier of padel courts in Ireland and the UK. Padel Tech are also an official licensee of AFP Courts in Barcelona and can supply the Adidas branded courts. To give something back to these very generous companies I engage in some social media activities such as Facebook and Instagram. These have been particularly important during the lockdowns when playing tournaments and travelling was not possible. Some of my friends at my local club have started calling me "AdiDaddy". I know that they are joking about my age but it is a great compliment. Perhaps I should have it on my shirts !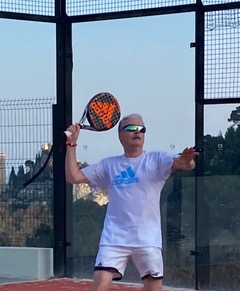 In 2017 I organised a match between the Irish Seniors Team (+50yrs) and Monaco. This was the first international match played by an Irish padel team and was a wonderful occasion.
In 2018 I founded the "Four Nations Masters Padel Tournament". This was a team event for national teams, men's +45yrs and was born out of some conversations we had while playing a Seniors event in Scotland. The first event took place in Casa Padel, Paris and the teams were from England, Ireland, Monaco and Scotland. The event was jointly sponsored by Padel Tech Ltd and Casa Padel and was a great success Afterwards I received requests from other countries wishing to take part. In 2019 the tournament was renamed "The Six Nations Masters Padel Tournament" and again took place at Casa Padel in Paris. The two additional teams came from France and Switzerland. Again there were requests from other countries but a decision was taken to stay at "six nations" so as not to become a competitor to other events such as the FIP European Seniors Championships. The 2020 tournament, featuring newcomers Sweden and Finland, along with England, Ireland, Scotland, and Switzerland was to have taken place at Helsingborg Padel but was postponed due to the pandemic. It is now scheduled for November of this year.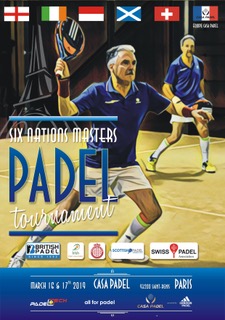 How is padel developing in Ireland ?
Padel has been slower to develop in Ireland than some other northern European countries but it is beginning to take hold now. The sport is not yet officially recognised by the government agency "Sport Ireland" so there is no official National Governing Body, (NGB), for padel. As president of Irish Padel Association, along with my colleagues, I am working tirelessly to change this. Because there were so few courts there was not sufficient interest in padel at government level. This is understandable but it is changing as the last few months have seen some exciting growth. In 2017 Dublin City Council built four padel courts in a public park as part of a renovation project of the public tennis facilities. This provided a great opportunity for people who used the park to see what padel was about and to try it out. The facility is operated under license and this license is due for renewal in early 2022. The council will be seeking tenders from anybody interested in operating an existing padel and tennis facility and we think that there will be great interest in this, quite different from when the original licence was issued almost 5 years ago and few Irish people knew about the sport. In June of this year the first indoor "pay and play" padel centre opened and is called " PadelZone-Celbridge". Situated just outside the city of Dublin, "PadelZone-Celbridge" has two Adidas padel courts and already there are plans for expansion. Ireland's most famous tennis club, Fitzwilliam LTC, founded in 1877 are building three padel courts which should be completed by the end of August 2021. As president of the Irish Padel Association I have been invited to the official opening on September 2nd and am very much looking forward to this event. As well as this, the luxury hotel Adare Manor, in County Limerick, who will host golf's Ryder Cup in 2026 have recently opened a magnificent 2-court indoor padel complex for hotel guests.
What is the proportion of private padel courts vs public padel courts in Ireland ?
At the moment the proportion of public to private courts is almost equal but we anticipate a sharp growth in the number of courts, most probably indoor, which will be open to the public.
How do you see padel in the future in Ireland and elsewhere ?
I think that the future is very bright for padel in Ireland. The sport has been slow to take off but in the past year we have seen the amount of courts grow quite rapidly. As president of the Irish Padel Association I have recently been in contact with several of the European "padel chains" expressing an interest in establishing clubs in Ireland. A year ago this would not have happened. We are also receiving enquiries from tennis clubs requesting information as to how they might add padel to their existing facilities. It really is an exciting time and if padel becomes and Olympic sport then the growth will be huge.
You also live in France. You can also confirm padel is booming there also. Do you think France can become one of the top padel country in the world ?
The sport of padel is certainly growing and gaining public recognition in France which is great. New courts are being built at existing sports clubs and I have heard of plans for new commercial centres like Casa Padel in Paris which has 12 indoor courts. Whether the country can become a top nation is difficult to say but both men's and women's national teams made a big impact at the recent European Championships in Marbella so it may well happen.
At Padelist.net, our goal is that everyone finds a padel partner or a padel coach to play with, helping our favorite sport at our level. Organisations and countries are making padel today. Celebrities and private investors are also building padel courts. But we also start to see brands that are not only making padel rackets anymore, they go much further. Do you have any experience to share ?
As an ambassador for Adidas Padel I see that they are offering more than just racquets and balls. Through their licensee AFP Courts, clubs can have Adidas branded courts and in turn be linked into the AFP Padel Academy where members can gain an internationally recognised coaching certification https://allforpadel.com/en/padel-u/.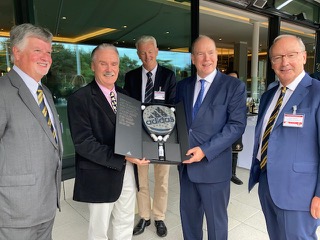 Mr Coffey with Prince Albert of Monaco presenting him with an Adidas Metalbone racquet
at Fitzwilliam Tennis Club, Dublin, Ireland, September 2021.
When and where will be the next senior padel tournament ?
Many of the international tournaments both regular and senior have fallen victim to the COVID 19 pandemic but with vaccinations becoming more widespread I think that these will return. The LTA Seniors tour have scheduled events in the UK for the autumn which is promising. International Senior Padel Tour are planning tournaments in Vienna, Bari, Calella, and Treviso in September and Paris and Las Vegas in October. These events are for both men and women and feature age categories from +35yrs up to +60yrs. We hope that these events do not fall victim to the pandemic and are well supported. After a long lay off due to a serious elbow injury I plan to return to tournament play at the Paris event.
A final word to conclude this interview ?
I have played racquet sports all my life and can honestly say that padel has the most to offer at all levels. Padel is addictive and there is no cure. Try it. Become addicted and have more fun than you ever thought possible.
Are you a padel player or a padel coach ?
Publish your padel profile in the world padel community to be contacted by players from your area to play with you and get discounts on padel rackets !